Smoothies are one of the most popular frozen drinks. However, making a proper smoothie requires not only frozen fruit but the right equipment and expertise. As simple as it might look, a smoothie is more than just blending frozen fruit. Here we will tell you What is the Best Blender for Frozen Fruit
The most important thing you need to make perfect smoothies is a blender with the right amount of force. Not all blenders have what it takes to cut through frozen fruit. Using an underpowered blender will damage it. Also, you'll get a bad quality smoothie.
Some people are overly cautious and ask, is it safe to put frozen fruit in a blender? In most cases, the answer is yes. Most blenders will handle frozen fruit without issue, though if the fruit is too rigid it might have issues slicing through homogeneously.
How do you blend frozen fruit?
Blending frozen fruit is not that different from what you would with fruit at normal temperatures. The only difference is that there will be no need to add ice. Instead, add some additional water to help the blender chop through the frozen fruit with ease.
If you do choose to blend frozen fruit, there are a couple steps you should follow: First, always start with the liquid. Second, make sure there's enough liquid to cover the amount of frozen fruit you're about to blend. Otherwise, you might end up with a sorbet at the base of the blender and some ingredients intact at the top.
Best Blender for Frozen Fruit Overview
| | | | | | |
| --- | --- | --- | --- | --- | --- |
| | | | Hamilton Beach Power Elite Blender | | |
| | | | | | |
| | | | | | |
| | | | | | |
| | 15.16 x 15.16 x 13.11 inches | 11.2 x 13.6 x 10.35 inches | 8.66 x 6.50 x 14.69 inches | 10.10 x 8.50 x 13.90 inches | 4.01 x 4.48 x 11.61 inches |
NutriBullet is known as one of the best blenders for crushing ice and frozen fruit. The Nutribullet Rx N17-1001 is one of the best frozen fruit smoothie blenders in the market. Its 1700 watt motor helps it cut through almost anything, so you won't have to worry about damaging your blender or having to look for other options. This particular model also comes with SMART technology, which will keep your hands free to do other things while the blender does the job.
The Nutribullet Rx N17-1001 has a new, sleek design liked by most modern families. The cup can carry up to 45 ounces and has an interesting inverted design that makes it easier to add the ingredients to it as well as handle them after they've been cut. The Nutribullet Rx N17-1001 also comes with a wide range of accessories that will give you significant flexibility in your kitchen.
The Rx does have some drawbacks. As a specialized blender, this model costs significantly more money than other blenders, with a selling price at around $125. However, if you have the money to spare and are looking for the best blender available, the Nutribullet Rx N17-1001 is certainly the best choice. Another potential drawback is that its motor consumes a significant amount of energy. This machine will be with you for many years, making your life much easier and your kitchen much cooler.
Check our "7 smoothies recipes with Nutribullet blenders" article
Does NutriBullet blend frozen fruit?
Yes. NutriBullet blenders are designed to cut through almost anything, including frozen fruit. It does not matter if you bought the Rx or other cheaper models, you can be sure that you will have the perfect blender for frozen fruits and smoothies.
Oster has been a staple brand for home electronics for decades. The high quality and industrial design of most of its products are well-known and highly sought by many homeowners looking for the best bang for their buck. The BLSTTSCB2000 is no exception. The main selling point of this particular model is its texture select settings, which allows you to select the best speed and force required to obtain the best possible results.
The BLSTTSCB2000 comes with three food modes (one for smoothies, another for shakes and a stronger one for food chops), and three texture settings (thin, medium and thick). This technology is designed to make the best out of the blender's 6-point stainless steel dual direction blades, providing more consistent results. However, if you need more flexibility, manual settings are available to adjust the blending process to your needs. 
There are a few drawbacks to consider before you purchase this model. First, although it's cheap, the motor only has 1,200 W of blending power. This amount is higher than the most traditional blenders, but it may yet pose limits on what you can blend. Also, the jar design may not be attractive to some customers. The reason is because it lacks a proper mechanism to keep the jar in place.
Hamilton is another popular brand of blenders for making smoothies with ice and frozen fruit. If you have a reduced budget and want to purchase a reasonably priced blender with good specifications, then Hamilton Beach Power Elite Blender might just be what you are looking for. This model can be purchased for around $30, which makes it quite accessible if you are in a  hurry and want a cheap quality option.
Aside from its low price, the Hamilton Beach Power blender has other interesting advantages. It's quite easy to use and it's speed buttons have descriptions that help you make the right choice. If you want to prepare frozen fruit smoothies, just choose speed number two!
There are some drawbacks. First, cheap models like this one are usually made of plastic, which may negatively affect its longevity. Also, although having an easy five-button setup can be good for casual users, it might be quite limiting for people with specific recipes in mind.
The Oster BRLY07 is significantly different from the model we analyzed above, the BLSTTSCB2000. The BRL model comes with a black plastic finish instead of silver, and has a variety of buttons each assigned to a function instead of a single wheel. The way the jar locks into the motor base is also more reminiscent of the classic Oster blenders of old.
All of these differences lead to reduction in price, as the BRL is about $20 cheaper than its BLS counterpart. This price reduction comes at the cost of a smaller jar, although some homeowners prefer this model because it is less prone to leakages compared to the more expensive BLS family.
Not all blenders have to be big and noisy. For people with small kitchens or who like to stay on the move, a portable blender that can perform as good or better than a countertop one is a must, especially if they enjoy making smoothies with ice and frozen fruit. In this case, there is hardly anything better than a Magic Bullet blender.
In this case, we've chosen this affordable 11-piece Magic Bullet blender set. Aside from the powerful 250-watt blender, the set also contains additional blender cups, blade replacements and more. A recipe book is also included, which may come in handy when you can't remember how to make a particular type of smoothie.
The main downside of this model, and with portable blenders in general, is that their compact design sacrifices a significant amount of blending power. For example, our first item on the list, the NutriBullet Rx, has 1,700 watts of power. The other models on this list all stay above 1,000 watts. If you need something with enough power to cut through not only ice and frozen fruit, but also tougher ingredients, it might be best to choose a traditional countertop blender instead.
We're an affiliate
We hope you love the products we recommend! Just so you know, we may collect a share of sales or other compensation from the links on this page. Thank you if you use our links, we really appreciate it!
Our verdict for the best blender for frozen fruit
More Kitchen Lovers Reviews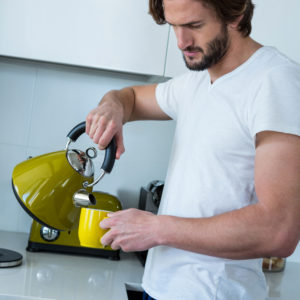 Whistling tea kettle is the most essential thing that you need in your daily life. You need to have this for your mess life and...
Read More